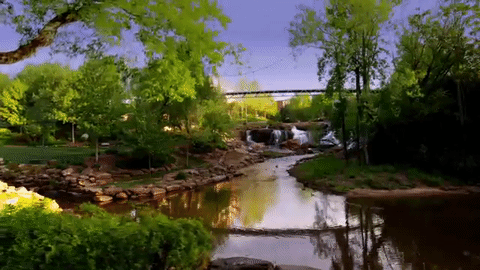 How to Kick Back, Relax, & Experience Greenville, SC
Whether you live in Greenville and want to Staycation or thinking about a Trip to Greenville, here are some great ideas for you!
Where to stay?
The beauty of a staycation is that it can be very affordable.  Stay in the comfort of your home.  Maybe even treat yourself to a house cleaner at the end of the week so it relieves you from feeling like you have to clean up as you go.  If you are looking to get out of the house for a few nights, consider spending a night downtown.  The cost of spending a night downtown will be costly but well worth experiencing our great city from a tourist perspective.  You may even choose to book a hotel away from downtown to give you a more vacation-like experience.  And if you want to "rough" it, try camping.  With so many state parks around you can easily get close to nature by finding a park to put up a tent or even rent a cabin.
Eat good food  
Our town has really become a "foody" city so take advantage of all the good eats and try new things. The Today show just ranked Greenville as the best place "to eat your way through retirement" on their recent retirement segment because of all the awesome restaurants we have in such a small area.   If you choose to stay at home, make a point to not cook the entire week and go out!!  Don't forget to treat yourself to dessert. Greenville is full of great ice cream shops, gourmet cupcakes, and even sugar filled popcorn!  And if you like good drinks, experience one of the many up and coming breweries that are in our area.
Check events way in advance and make plans to experience our town.  Have fun at a baseball game at the Greenville Drive.  We have so many fun museums to experience that hold great exhibits throughout the year.  If you are looking to entertain kids, check out the zoo events page!  I have found that the Roper Mountain Science center has a lot of great opportunities for fun.  There will be a butterfly festival this year and Saturday events.  Consider a membership as there are many events throughout the year and this is a good start.  Spend a day at one of Greenville's awesome waterparks.  There is so much to do that you can easily fill an entire week with activities.
Take a day trip 
There is plenty to keep you busy here in Greenville but if you want to get out of town for the day there is plenty to do in just a days drive.  Take a 45 min drive to Lake Keowee and rent a boat for the day and enjoy fishing, swimming and other fun water activities.  Just an hour and a half drive to Charlotte will get you a full day at Carowinds. Another hour and a half drive will put you in Columbia for the Columbia Zoo and great state museums.   If you are up for a more ambitious drive, go to Charleston and visit the beaches and Fort Sumter for the day.  If you are really brave, you can make the drive to Atlanta to experience Six Flags, a Braves game, Legoland, the Aquarium and other fun things.
Prepare for bad weather 
With every vacation, there is always that day that gets rained out and you are scrambling to look for something to do!  You still have a lot of options during those rainy days.  Check out a good movie and splurge on the popcorn and candy.  Go get a makeover at the mall including makeup, nails, and hair.  If you have kids, check out the ice skating and jumphouse at the Pavillion.  Don't forget that we have a roller skating rink in Taylors and a few bowling alley's (most of them offer great summer deals).  And one of my personal favorites is Playnation which is an indoor playground located off of Woodruff Rd.
Remember to unplug!  Whether you are in town or not, you are on vacation.  Don't let work call you in for the day just because they know that you aren't going out of town.  This is still your vacation and remember to treat it that way.  Relax and treat yourself like you would anywhere else.